Research Collaboration
The Design of Nanocellulose x Silk Filament Fusion Material
Kyushu University, Faculty of Design, BioLab, started in 2019. It is currently working on "developing a method for next-generation design education (creativity education)". Also, engaging in research activities with various researchers both from within and outside of the university to gain multiple perspectives surrounding life and intelligence, such as the aesthetics of life, artificial intelligence, bio-art, artificial life, and DIY bio.
Currently, Terumi Ikenaga, a PhD student at Kyushu University Graduate School of Agricultural Sciences, is experimenting in the Bio Lab using yarn spun by silkworms. This experiment explores the possibilities of design using silk and membranes produced by silkworms through molding process.
Click here for previous experiments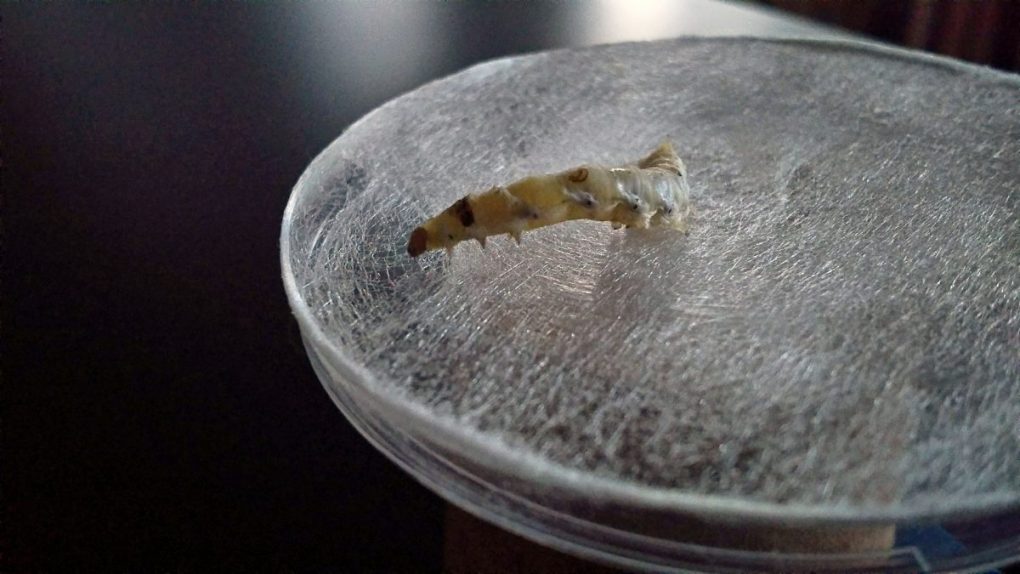 We are conducting an experiment that combines proteins that make up the silk filaments created by silkworms with nanocellulose derived from bamboo. We are exploring how the materials will change and what kinds of possibilities arise from these changes. 
When diluted nanocellulose is repeatedly injected into non-woven fabric made from planar spinning, the nanocellulose fills the gap while the silk filaments (silk fibres) serves as the axis. This cause the materials to fuse. Similarly, when nanocellulose is injected into silk wadding, the wadding fibres, which normally loosen and spread out, instead adhere together and cease to spread. The material made by combining nanocellulose and silk filaments has a texture that varies from cellophane, paper, or leather. It depends on the number of silkworms and cocoons used, and the degree of dilution and amount of nanocellulose injected.
When nanocellulose is injected into non-woven silk filament fabric made from planar spinning, it feels like cellophane.
When nanocellulose is sprayed onto wadding, it feels like paper or leather.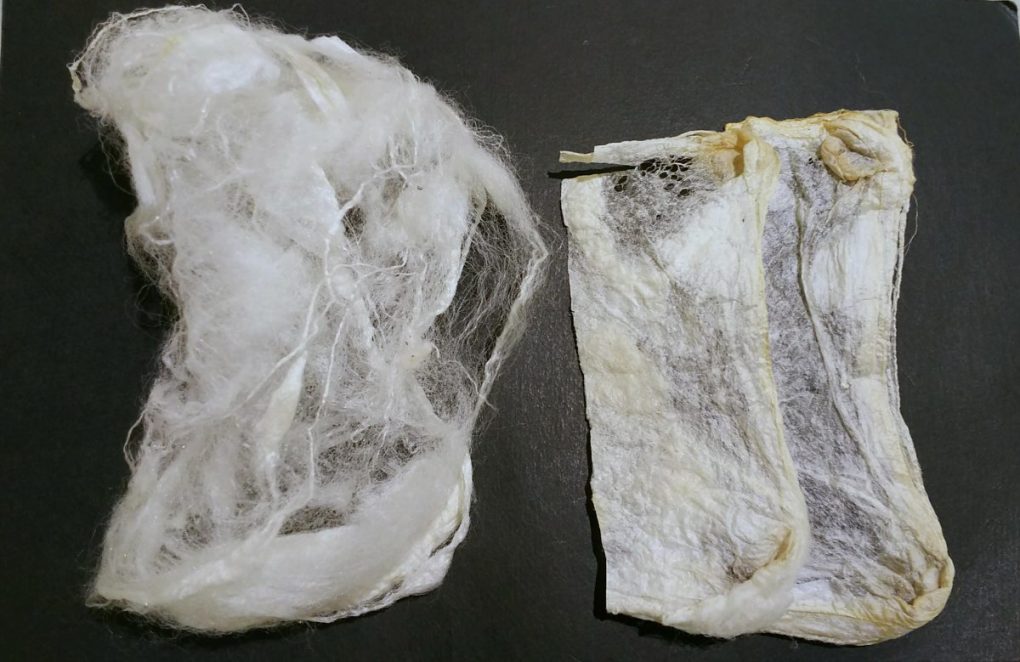 Left: wadding, Right: wadding and nanocellulose
With planar spinning, each silkworm can create a circle of non-woven fabric with a five cm diameter in two to three days. They can also spin in 3D. The non-woven fabric created through planar spinning has patterns and natural colour that fluctuate, depending on the silkworm's path. It cannot be produced with a 3D printer and synthetic fibres. When nanocellulose is added to the material, the original texture is preserved, and a harder material is created.
Nanocellulose when dried, hardens and shrinks significantly. Silk filaments are flexible and stretchable but difficult to maintain in solid shape. Hence, the fusion of nanocellulose and silk filaments complement each other to create a new material with elasticity and flexibility. This material can also shape in two or three dimensions, and produce in a relatively short time.
Nanocellulose and silk filaments fuse without subsequent processing, hence the characteristic of each material remain. Although the material produced is irregular or uneven, it creates an interesting texture which is random and different. Also, every piece looks differently.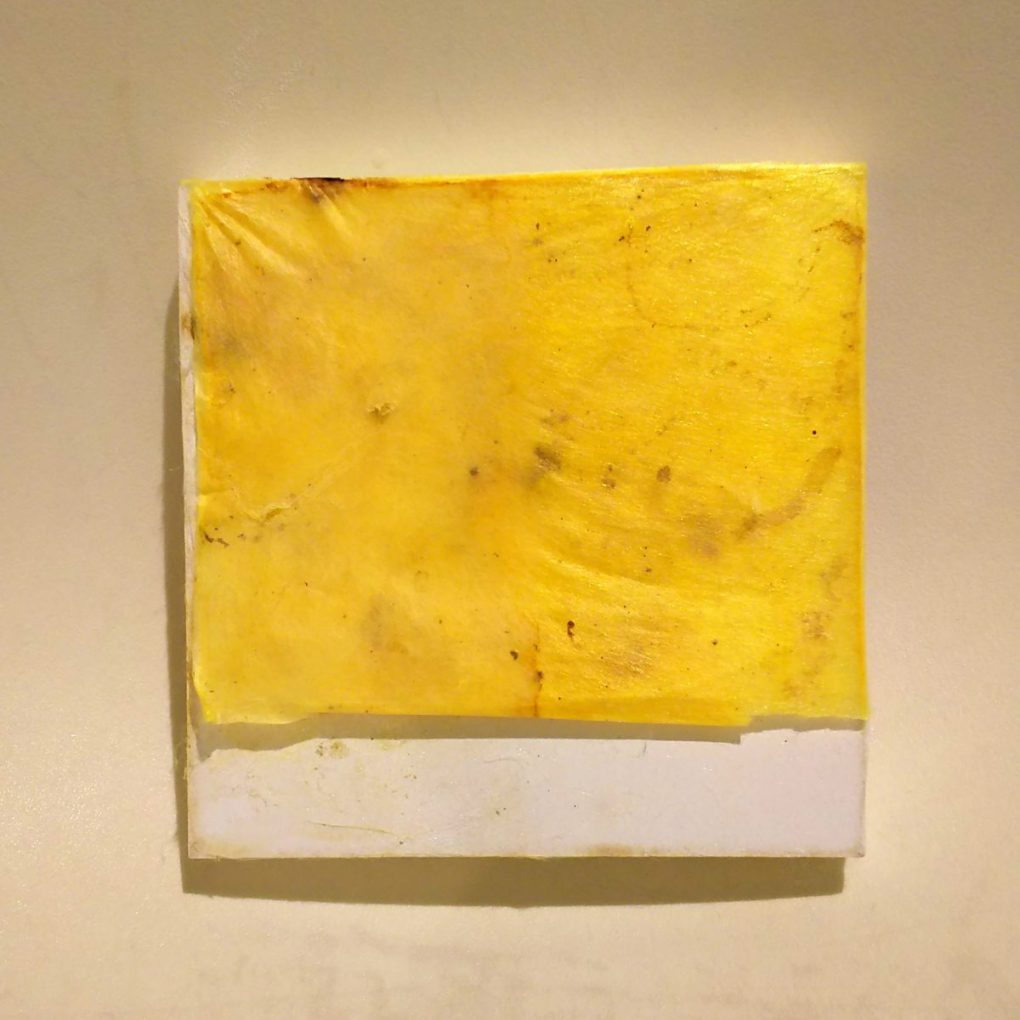 Left side: non-woven silk filament fabric made from planar spinning and nanocellulose, Right side: silk filament only
In the future, we will use this material to examine how to develop materials that do not rely on plastic.
Venue
Kyushu University, BioLab
Member
Terumi Ikenaga Graduate School of Agriculture, Kyushu University