Others
Kyushu University & Taiwan National Cheng Kung University Joint Design Work
Monday, February 19th – Thursday, February 22nd, 2018
The Kyushu University & National Cheng Kung University Joint Design Workshop, a joint project between the Kyushu University School of Design/Graduate School of Design and National Cheng Kung University College of Planning & Design (ranked 48th in the world by the QS World University Rankings by Subject 2018: Art & Design), was held at the Kyushu University Ohashi Campus from Monday, February 19th through Thursday, February 22nd, 2018.
Using the design process model known as the Double Diamond, this workshop took a look at the social issues caused by a decreasing birthrate and aging population from a modern IoT (Internet of Things) era point of view, and took on the challenge of finding possibility in innovative design for the coordination of "Self-Help, Mutual Aid, Cooperation, and Public Aid" with the purpose of improving quality of life for the elderly.
Five faculty members and 11 students from Kyushu University participated in the program, along with six faculty members and 11 students from National Cheng Kung University.
A mixed team was formed with members from the two universities, including three design group teams and three research group teams, and a workshop was held with the theme "Design for the Elderly," based on an interview survey of four elderly individuals.
The design group made service proposals while using laser cutters, 3D printers, and prototyping tools to create prototypes.
The research group made research plan proposals by investigating research tasks through a survey of related academic articles and other means.
[Dates]
Monday, February 19th – Thursday, February 22nd, 2018
[Location]
Kyushu University, Ohashi Campus
[Participants]
Kyushu University: 11 Participants (2 Undergraduates, 1 Master's Student, 6 Doctoral Students, 2 Research Students)
National Cheng Kung University: 11 Participants (2 Undergraduates, 8 Master's Students, 1 Doctoral Student)
[Faculty Members]
Kyushu University: Kiyoshi Tomimatsu, Ryoichi Tamura, Taketoshi Ushiyama, Tokushu Inamura, Shinichiro Ito
National Cheng Kung University: Fong‐Gong Wu, Min-Yuan Ma, Chun-Heng Ho, Sheng-Fen Chien, Chia-Han Yang, Hsi-Jen Chen
[Keyword(s)]
Customer Experience Design, Interaction Design, Double Diamond, User Journey Map, Business Model Campus, IoT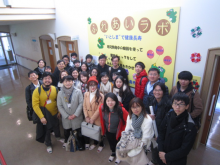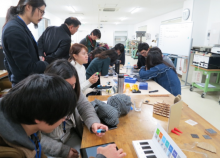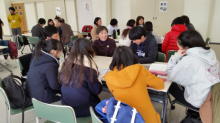 Date
Monday, February 19th – Thursday, February 22nd, 2018
Member
Fong-Gong Wu Taiwan National Cheng Kung University
Min-Yuan Ma Taiwan National Cheng Kung University
Hsi-Jen Chen Taiwan National Cheng Kung University