Workshop
Fukuoka City Science Museum: Floss Silk Nonwoven Fabric Workshop
Biolab of theFaculty of Design at Kyushu University was launched in 2019 and is currently engaged in joint research with various researchers from within and beyond the university. Our wide-ranging research adopts multiple perspectives on the relationship between intelligence and life, including bio-aesthetics, artificial intelligence, bio-art, synthetic life, and DIY bio, as part of our efforts to "develop the pedagogy for next-generational design education (creative education)."
Ms. Terumi Ikenaga, a PhD student from the Graduate School of Agriculture at Kyushu University, is currently conducting experiments at Biolab involving threads that silkworms spew out. This experiment explores the design-related possibilities of silkworm byproducts such as their threads and membranes as well as their unique material-shaping process.
Below are links to the experiments so far:
Silkworm flat-spinning experiment
Designing a composite material made from nanocellulose×silk filaments
Biolab Silkworm Nonwoven Fabric
Floss Silk Making Workshop
This time, with an open call to the public, a floss silk making workshop was held at the Fukuoka City Science Museum. There were 68 people, from children to adults. First, they learned about the differences between floss silk made from silkworm cocoons, cotton floss silk made from plants, and polyester floss silk made from petroleum. Then, as the first part of a process to make non woven fabric with floss silk and nanocellulose, about 170 pieces of square floss silk were made by stretching the floss silk by hand over a wooden frame.
Even though the same frame was used, each one expressed individuality, and you can feel the hand craftsmanship. Normally, square floss silk is stretched thin by hand and used as padding in coats and futons. A thin and almost endlessly expandable cotton can be made.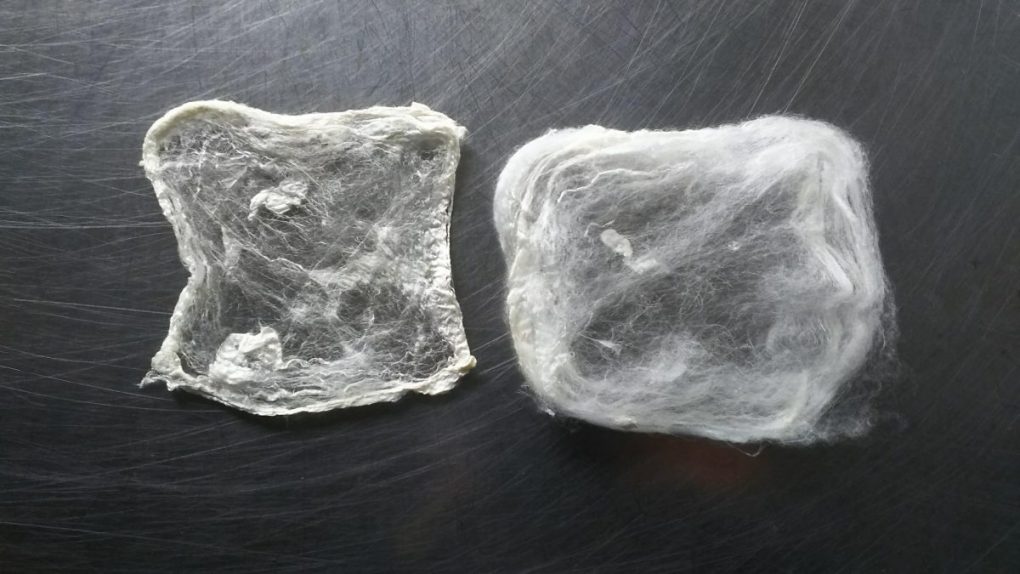 Photograph: Square Floss Silk (Left is before expanding, right is after expanding)
You probably know this, but during the long history of silk production, this kind of floss silk, that is not fit to be used for silk thread, has been used before.
Silkworms undergo holometabolism, also called complete metamorphosis, is a form of insect development: egg, larva, pupa, and imago or adult. They develop dramatically their physicality especially at this biological process from larva to pupa and pupa to adult. This important stage takes two to three days and they spin about 1,000 m of thread to create their cocoon for protection. When the cocoon is unwound, it becomes a single long thread. It takes a lot of effort to reel a 1,000 m thread. Uniformly shaped cocoons are usually needed for reeling performance.
Unique cocoons, cocoons from where silkworms have been emerged, and cocoons inside where multiple worms hold were all considered silk waste. Still, silk waste has been used since ancient times as floss silk.
In contrast to cotton made with wadding from plants (cotton plant), wadding made from silkworm cocoons is called floss silk (Mawata). Cotton fiber is short and soft to protect seed germination. Floss silk fiber comes from one long connected strand about 1,000 m long. Because of this, it cannot be mass-produced and achieved by a large carding machine. Instead, the long fiber has to be undone meticulously by hand.
Silk Filament × Nanocellulose
We are working on a prototype for a new non woven fabric that is smooth like paper by blending nanocellulose with this floss silk.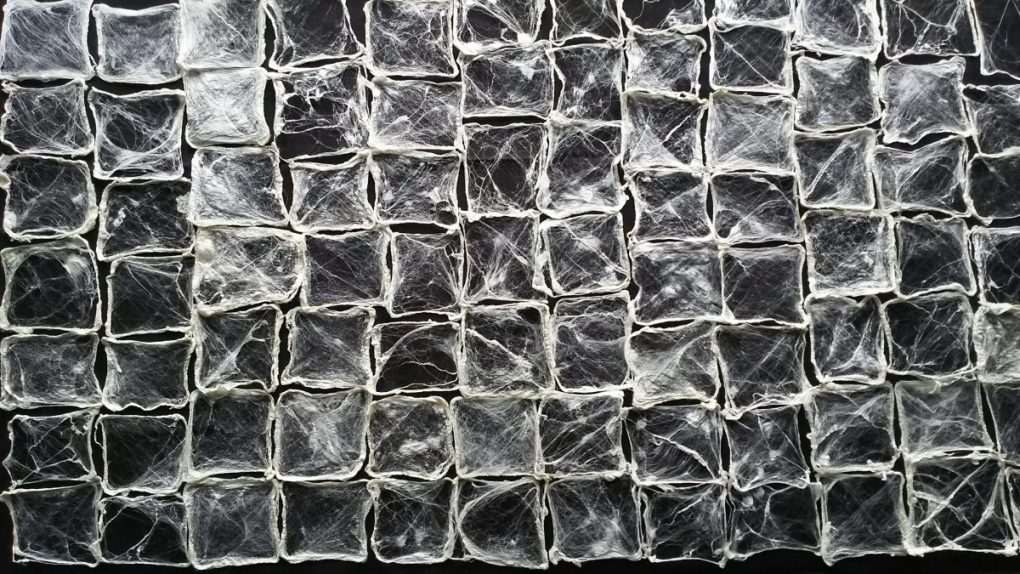 If we look back to history, during the Han period in China, paper is defined in the "Shuowen Jiezi" as, "A sheet shape created by beating worse floss silk, or by scooping up of silk waste dispersed in water." Paper made in this way was a pioneer in non woven fabric and it was used widely in stationary, wrapping paper for important items and Shoji paper[1].
For use as a nonwoven fabric, floss silk is too weak to be used as cloth. Therefore, by fusing with nanocellulose developed by the Kondo Laboratory at the Kyushu University Graduate School of Agricultural Sciences, the fibers are fixed together, and a new material with a feel closer to paper is being developed.
Currently, we are exploring the use of this new material in clothing. One of the people we are working with is costume designer ARAKI SHIRO. The new items are scheduled to appear at the upcoming Fukuoka Asia Designers Show 2020 at the Fukuokashi Museum on March 14th, 2020.
Anyone is free to come, so please be there.
[References]
[1] "50th Anniversary Collection of the Japan Floss Silk Association," Japan Floss Silk Association, 1997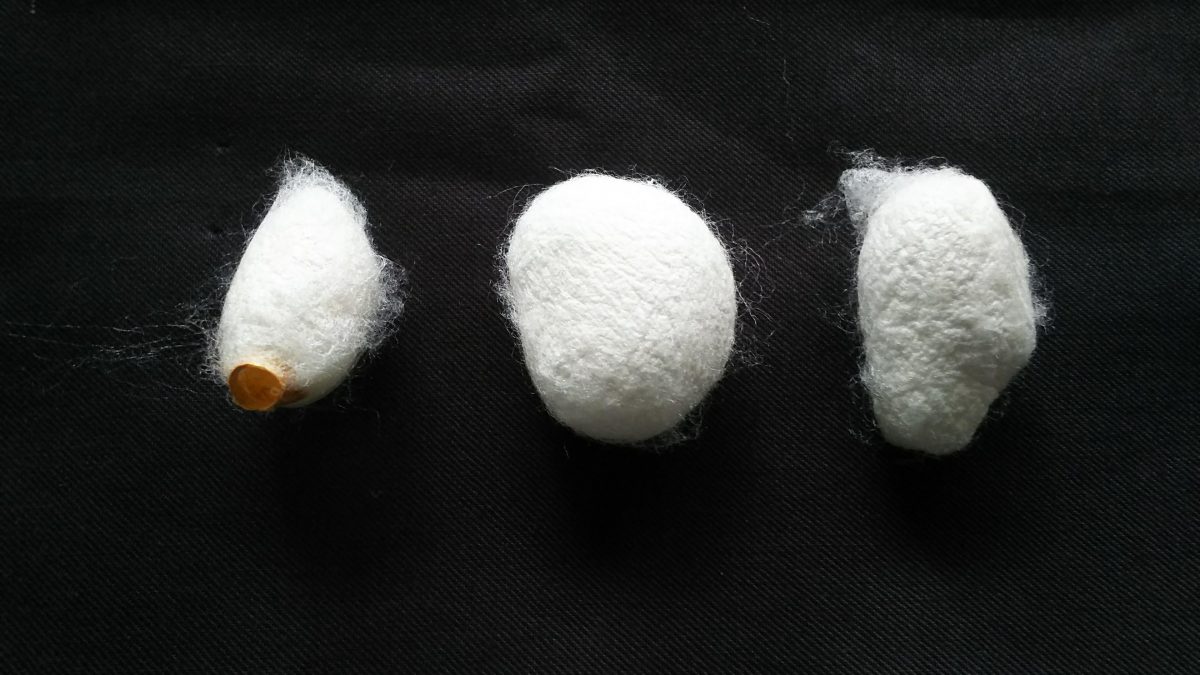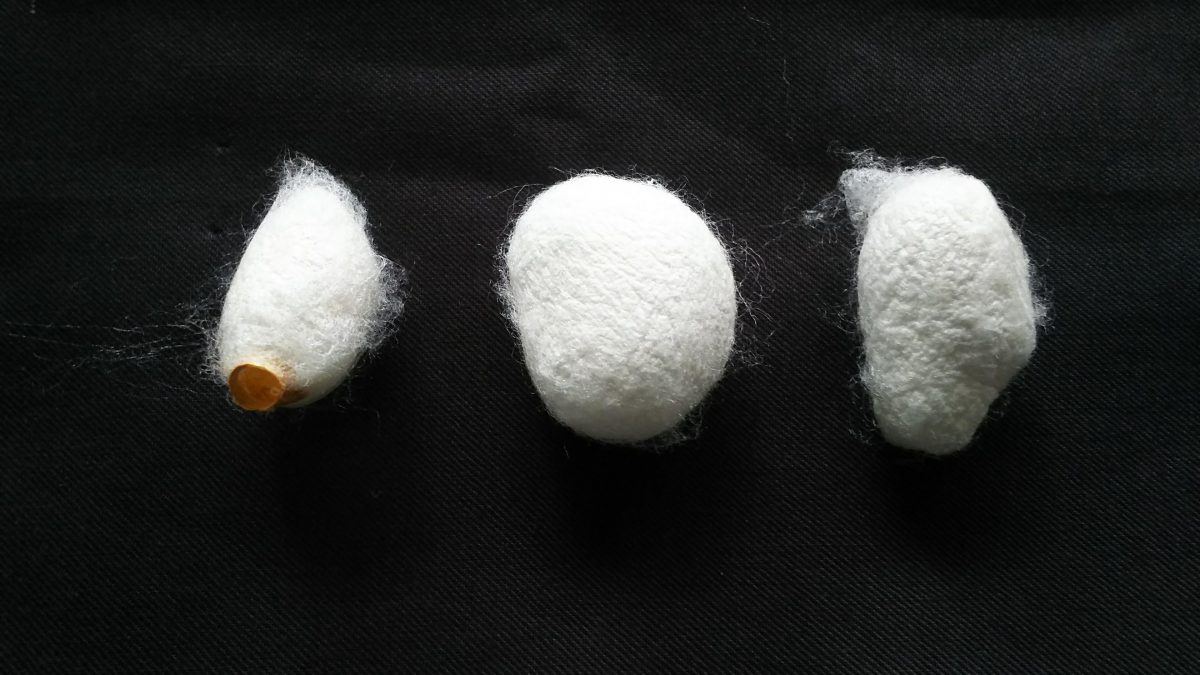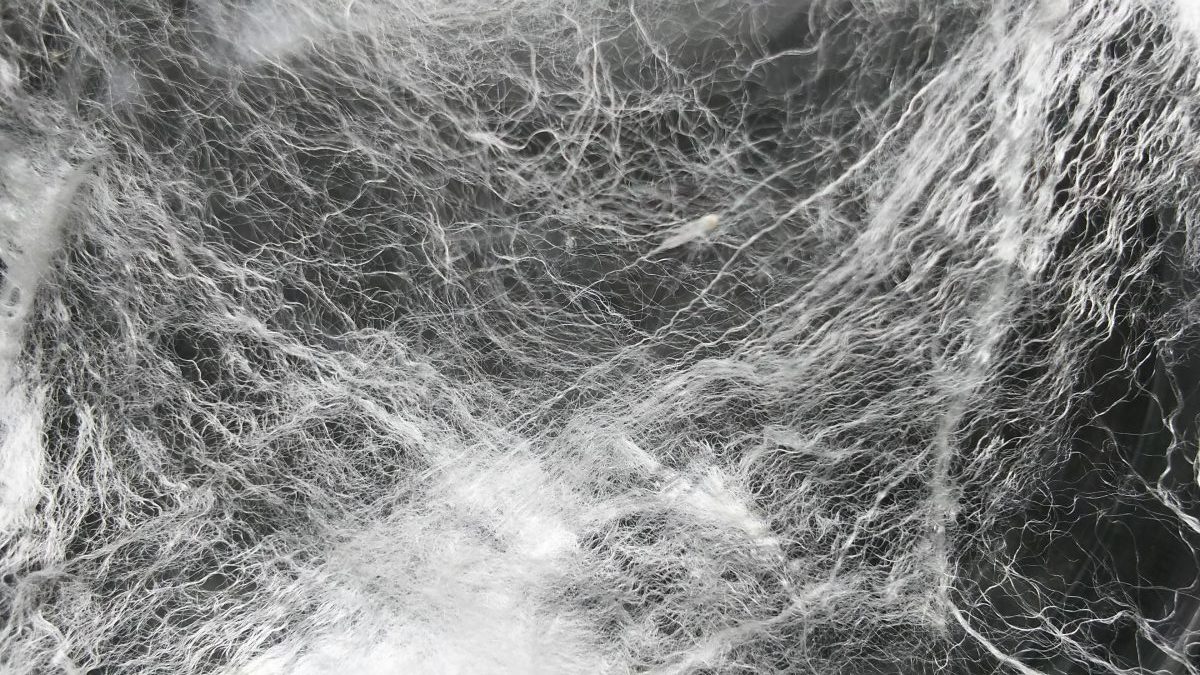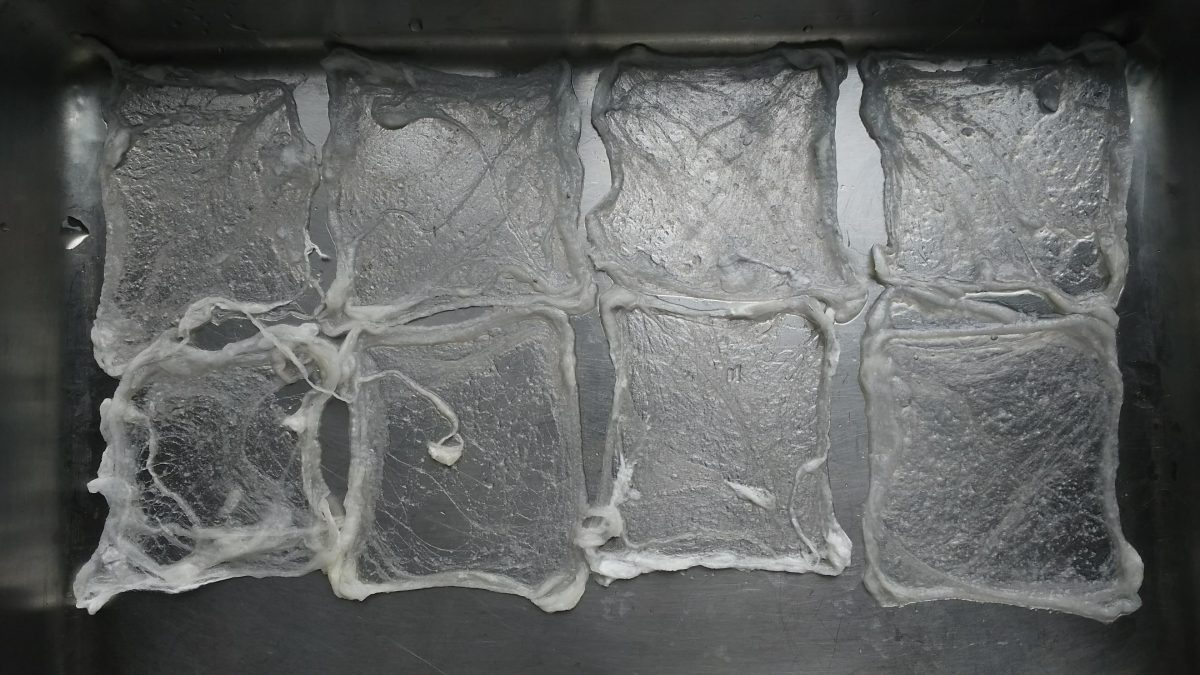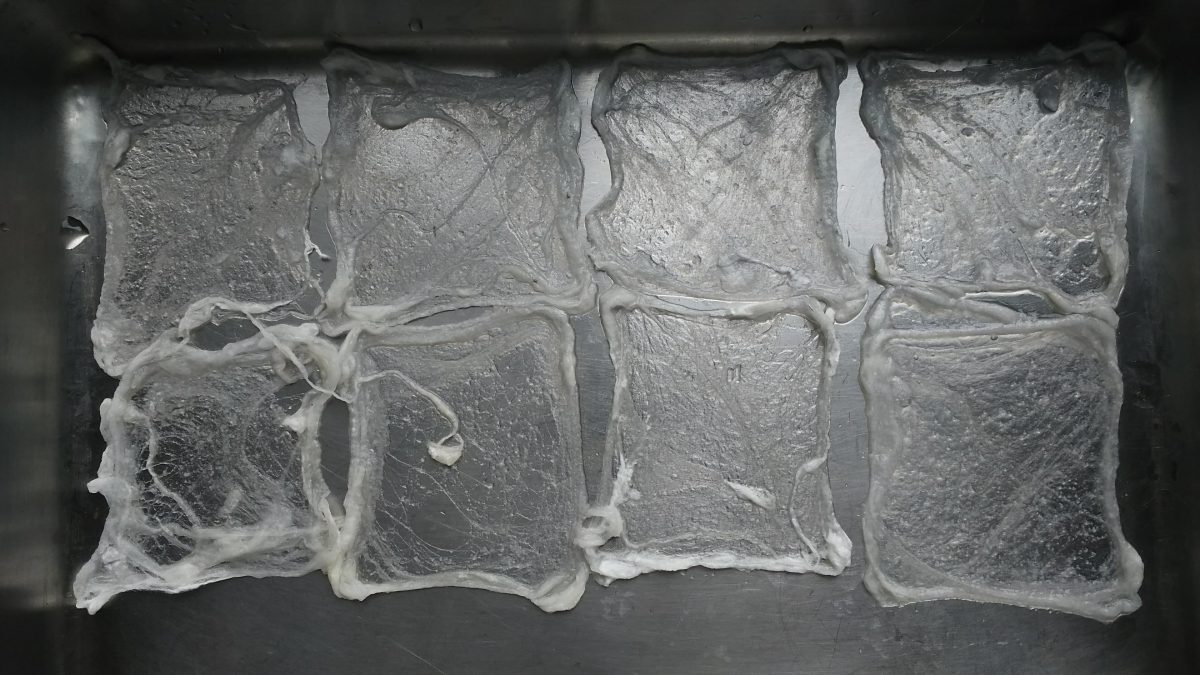 Date
December 25th (Wednesday), 2019
Venue
Fukuoka City Science Museum
4-2-1 Ropponmatsu, Chuo-ku, Fukuoka City 810-0044, Japan