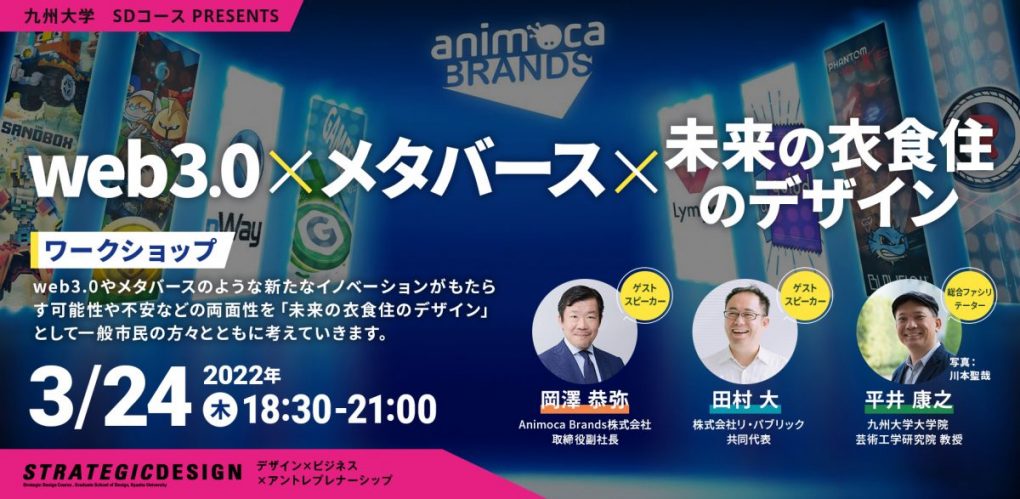 The Strategic Design Course of Kyushu University Graduate School of Design held a PBL-style workshop entitled "web3.0 X metaverse X designing the future of food, clothing, and housing".
web3.0 X metaverse X design for future food, clothing, and shelter" is a social design initiative started by Animoca Brands Japan, Fukuoka City Bureau of Economic, Tourism, Culture, and Kyushu University.
This educational program aims to think together with the general public about how to design a society based on the two-sided nature of the possibilities and anxieties that new innovations such as web3.0 and the Metaverse will bring. Specifically, based on the initiatives of Animoca Brands Japan and a lecture on social design by Dai Tamura of Re:public Inc. we thought the design for future food, clothing, and shelter.
[Guest Speaker]
Kyoya Okazawa (Executive Vice President, Animoca Brands Japan)
He is 51 years old and born on June 9, 1970, in Yokohama. Graduated from Keio University, Faculty of Economics. After working at UBS Securities and Credit Suisse Securities, he joined BNP Paribas Securities. Based in Hong Kong, he was previously Head of BNP Paribas Global Markets Japan and Korea, Head of Corporate and Institutional Sales for Asia, and Head of Research for Asia. He currently serves as Executive Vice President of Animoca Brands, Inc.
Hiroshi Tamura (Co-Chairman, Re:public Inc.)
B.A. in Psychology, Faculty of Letters, University of Tokyo, and Ph. In 2009, he co-founded and became the director of the i.school at the University of Tokyo, where he has been an executive fellow since 2013. He is currently a visiting professor at Kyushu University and Japan Advanced Institute of Science and Technology. He co-authored many books, including "How to Create World-Changing Innovations the University of Tokyo Way.
[General Facilitator]
Yasuyuki Hirai (Professor, Faculty of Design, Kyushu University)
[How to hold a meeting]
The online conferencing tool "ZOOM" was used.
[Program]
18:30-18:40 Overview presentation Yasuyuki Hirai
18:40-19:10 "Animoca Brands' Approach" Kyoya Okazawa
19:10-19:40 "Perspectives from Social Design" Dai Tamura
19:40-20:30 "Future Food, Clothing and Housing" design workshop (for 20 participants only)
20:30-21:00 Presentations (4 teams X 5 minutes) and summary
[Organizers]
Faculty of Design, Kyushu University
[Co-sponsor]
Animoca Brands Japan
Fukuoka City
Kyushu University Business School (QBS)
Robert T.Huang Entrepreneurship Center of Kyushu University (QREC)
Date
March 24th, 2022, 18:30-21:00
Capacity
Workshop: 20 people, Audience only: 100 people *Applications will be accepted on a first-come, first-served basis and will be closed when the number of applicants reaches the limit.
Contact
Kyushu University Faculty of Design
oishi.nodoka.758(a)m.kyushu-u.ac.jp